About the Carbon Black Pizza Dough
The latest trend in the pizza industry brings us the carbon black pizza dough. Colored using vegetable charcoal powder, the black dough is odorless and tastes no different than regular pizza dough.
The vegetable charcoal is completely natural and is sourced from beech and birch, two types of trees. The charcoal is said to reduce symptoms of indigestion and bloating.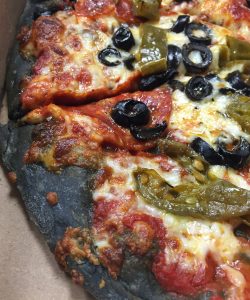 Why add carbon black pizza to the menu?
Black pizza is a great differentiation point. Stand out from the competition with this unique product!
Customers are always taking pictures of their food to post it on social media. Ask them to tag your restaurant in the picture to spread the word about this intriguing dish!
The black dough is perfect for special occasions such as Halloween.
Mimi's black carbon pizza dough samples are available in 8 oz dough balls and 14″`x 7″ par-baked crusts. Get is touch with us by emailing artisiticdough@mimifoods.ca or   905-660-0010.